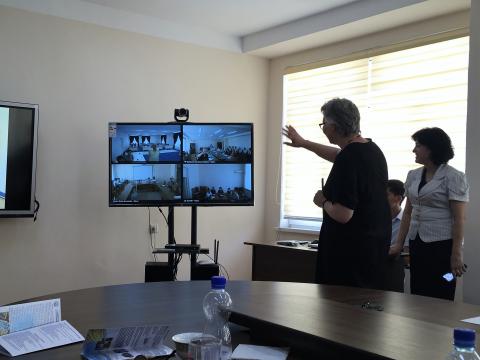 UZDOC 2.0 partner Tashkent Institute of Chemical Technology inaugurated the Virtual Doctoral Centre on July 2nd, 2019. The equipment, which was funded by the UZDOC 2.0 project, was tested during the inauguration ceremony through a video call with four other project partners.
The event was attended by different members of the academic community, including students, a representative of the Ministry of Higher Education and Secondary Specialized Education, and the Coordinator of Uzbekistan's National Erasmus+ Office, Aziza Abdurakhmanova.
UNICA also attended the inauguration ceremony, with Secretary-General Kris Dejonckheere recalling the objectives of the project to develop research that enhances skills and expands resources. She encouraged students to take advantage of the new resource by saying: "Take ownership of it because this is the future. This is your future".
One of the students attending the ceremony stressed the importance of the investment in the equipment for new ways of doing research in the future: "I hope this collaboration can be extended to other forms, such as the exchange of PhD students".
The Virtual Doctoral Centre at Tashkent Institute of Chemical Technology compromises two rooms: a conference call room and a computer room.