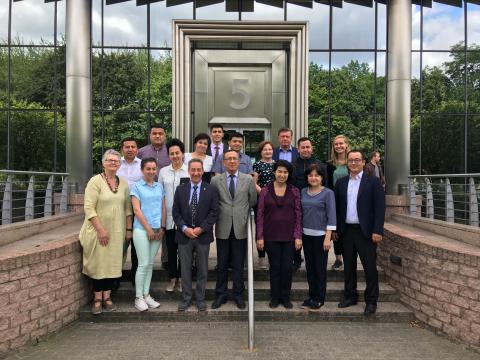 The UZDOC 2.0 activities in Brussels on the week of July 8 – 12 included meetings to get to know Doctoral Schools of Vrije Universiteit Brussel (VUB) and Univeversitè Libre de Bruxelles (ULB) as well as a visit to the International Office of VUB.
On July 8th Uzbek partners spent the day at the VUB campus, where they had the opportunity to meet the Director of the Doctoral School of Human Doctoral Sciences of Vrije Universiteit Brussel, Karen François, for a presentation about the management of Doctoral Programmes and initiatives that link PhD candidates to industry partners. This was followed by a visit to the International Office in the afternoon, where participants met Romain Meeusen, Vice-Rector for Internationalisation of the same University, and discussed internationalization strategies in academia.
On the following day, it was ULB's turn to present its Doctoral School. Head of Postgraduate Office Bibiane Freché led the session where participants had the chance to get to know the initiatives and actions ULB has been taking in order to improve the doctoral experience and training of its PhD students.
 
Documents: