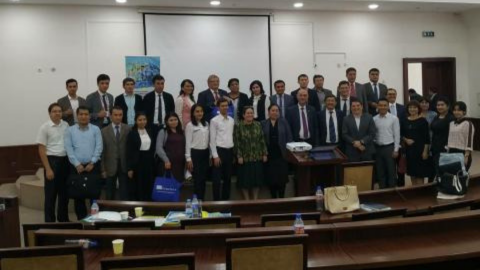 On October 4, 2019, the Erasmus+ Information Day was held at the Tashkent State Technical University (TSTU).
More than 190 people representing 75 higher education institutions from Tashkent and all country regions, line ministries and stakeholder organisations attended this event.
Welcoming remarks were made by the First Deputy Minister of Higher and Secondary Special Education of the Republic of Uzbekistan Mr. Kongratbay Sharipov, the EU Ambassador Mr Eduards Stiprais, Head of the EU Delegation to Uzbekistan, and Rector of Tashkent State Technical University Prof. Sadriddin Turabdjanov. 
For the 3rd time already a "Tempus and Erasmus+ Projects Fair" was organised in the framework of the Erasmus+ Information Day. This year, in total 15 CBHE projects Erasmus+ presented their results, the project teams and publications produced within the project. UZDOC 2.0 was one of them. Moreover, the NEO staff, members of the National Team of HEREs and project coordinators delivered presentations on the cooperation opportunities within Erasmus+ programme.  
During the Information Day an online photo & video exhibition was held and the UZDOC 2.0 project was featured! The project's latest video with an overview of all the activities participated in the contest.