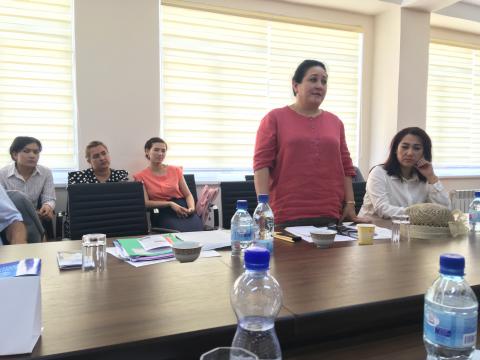 As UZDOC 2.0 project approaches its final event, project partners and other stakeholders start taking in-depth stock of the progress achieved since its predecessor project, UZDOC, but also discussing the sustainability of the actions implemented in the last years.
During the inauguration of the Doctoral Virtual Centre at Tashkent Institute of Chemical Technology, different stakeholders shared their expectations on the impact of the project. A representative of the Ministry of Higher Education and Secondary Specialized Education who attended the event showed the support of the Ministry towards the project by mentioning plans to expand the initiative: "We will disseminate this experience in all universities in Uzbekistan and take in consideration all recommendations discussed in previous meetings".
Aziza Abdurakhmanova, Coordinator of Uzbekistan's National Erasmus+ Office, reacted to the Ministry's support by saying that "regulation is a very important component, and that is why involvement of the Ministry is so important. It guarantees dissemination and sustainability".
On her turn, Melita Kovacevic from the University of Zagreb (Croatia) and external evaluator of UZDOC 2.0, delivered a speech in which she called attention for the wider picture of the project: "There is an unbelievable development in Uzbekistan. The same happens in Science, which is not easy to follow. That is why these projects are important: not only they provide resources, but they help partners understanding each other. We realized that through this project a lot more collaboration started among the Uzbek Universities – the construction of this network is a part of our mission".
UNICA's Secretary-General Kris Dejonckheere also added that further cooperation between departments and students and quality improvement are also expected outcomes on the long run.