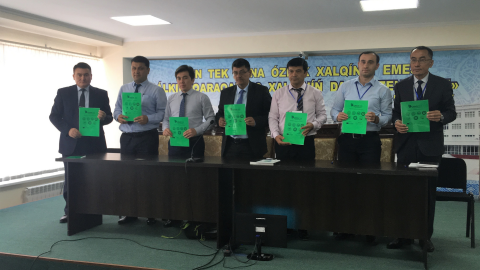 The Virtual Doctoral Centre, one of the outcomes of the UZDOC 2.0 project, has been officially launched upon the signature of an agreement among all the Uzbek project partners on September 12 at Karakalpak State University in Nukus, Uzbekistan.
The signing ceremony took place during the official final event of the project, which was attended by high-level representatives from the Republic of the Republic of Karakalpakstan and a large group of participants from all the Consortium partners.
By virtually connecting the Uzbek HEIs geographically dispersed in the country, the Virtual Doctoral Centre will serve as a joint organizational support structure for doctoral education. It will work as a platform for the organization of support services for doctoral education, implementation of quality assurance mechanisms, collaboration with the business sector and implementation of innovative elements in doctoral training developed through previous UZDOC project.
The Virtual Doctoral Centre is the result of the work that started with the first UZDOC project, relying on the learning and achievements achieved in the last six years, including the most recent workshop on the preparation of the guidelines for the implementation of the centre.